A relatively small fraction of terrain often frequented by backcountry travelers has a professional daily avalanche advisory available. For this reason, the Alaska Avalanche Information Center encourages backcountry travelers across the state to share what they see.  This is in hopes of further building the knowledge base of statewide avalanche conditions.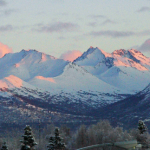 At this time there is not an avalanche advisory available to the public for the Chugach Mountains surrounding the Anchorage area (Northern Turnagain Arm to Pioneer Peak).  This is a huge public safety conundrum for recreationists of Alaska's most heavily populated region.
An Alaska Pacific University graduate student is working with stakeholders statewide to develop a model for a sustainable recreational avalanche advisory for the Chugach.
Mountains surrounding Anchorage, with a core advisory zone consisting of the Canyon Road, Glen Alps, Arctic Valley, and South Fork Eagle River areas.
Your snow, weather, and avalanche observations are greatly appreciated and will assist the development of this project that seeks to promote public safety for winter recreationists in the most heavily populated region of Alaska.  For further information or to submit observations, email Mat Brunton:
mbrunton@alaskapacific.edu