Avalanche Accidents and Incidents in Alaska
Unfortunately, as backcountry recreational user numbers continue to increase, the number of accidents also are increasing.  This list of accident reports is meant to be used as an educational tool that we can learn from, and hopefully not place ourselves in similar positions. A running list of avalanche accidents in the U.S, can be seen on the American Avalanche Association website.
The Colorado Avalanche Information Center has compiled avalanche accident statistics since 1950.  Please see their site for a listing of charts and graphs organized by state, activity, user group, age, and burial depths of all documented accidents in the United States.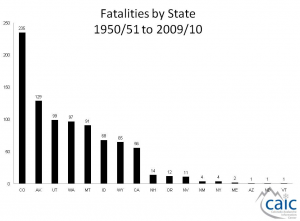 If you have a close-call or accident, please report it to us using the form below so others may learn from your situation.  If you wish to keep the details unpublished, we respect that, but would still like to hear from you.  Accident or "near miss" Report Form
2012-2013 season: 1 FATALITY IN ALASKA
130303 Haines 1 heli ski fatality. Summary <here>. More details <here>. Survivor story <here>.
2011-2012 season: 6 FATALITIES IN ALASKA
2010-2011 season: 5 FATALITIES IN ALASKA

2009-2010 season: 5 FATALITIES IN ALASKA
2008-2009 season: 2 FATALITIES IN ALASKA
2007-2008 season: 4 FATALITIES IN ALASKA
2006-2007 season: 0 FATALITIES IN ALASKA
2005-2006 season: 4 FATALITIES IN ALASKA
2004-2005 season: 1 FATALITY IN ALASKA
2003-2004 season: 3 FATALITIES IN ALASKA
2002-2003 season: 4 FATALITIES IN ALASKA
2001-2002 season: 11 FATALITIES IN ALASKA
2000-2001 season: 4 FATALITIES IN ALASKA
1999-2000 season: 5 FATALITIES IN ALASKA
1998-1999 season: 12 FATALITIES IN ALASKA